Purchasing cards directly from a market is the easiest way to acquire a card, assuming you have enough credits/tickets to purchase it. First, head to the marketplace by clicking on the shopping cart icon at the top of the screen:
At the bottom of the screen, you will see all of the markets where you can potentially purchase cards. You can organize the markets into market type by clicking on the "All Markets" button:

You can also click on the list icon if you want to see the names of available markets instead of their pictures:
Market Types
There are three different types of markets from which to purchase cards.
Standard Credit Markets:
Indicated by the orange CR coin in the upper left corner of the market icon, there are four credit markets are available to all users, whether or not you have a subscription. The firs three are Santa Monica, Venice, and Rio de Janeiro; the last market with the gavel icon to the top right is the Fort Worth auction market.

XL markets:
Indicated by the XL in the upper left corner of the market icon, XL markets are only available to users with a paid subscription. Cards here are still purchased with credits. When a collection is first released, cards will be in XL markets before they show up in the free credit markets.
Ticket markets:
Indicated by a green ticket in the top left of the market icon, ticket markets feature both newly-released cards, and retired cards. Cards here can only be purchased with tickets.

When cards are purchased from a ticket market (except the auction house), they are permanently safe from being stolen from your pack by friends/the Rats. All users, free and subscribed, can buy cards from ticket markets as long as they have enough tickets. Tickets are obtained by buying them with a credit/debit card or PayPal, or winning them elsewhere in the game.
To purchase them, click on the + button next to the ticket bar:
Select your payment method (credit/debit card, PayPal, AliPay, or Bitcoin), and then click 'buy':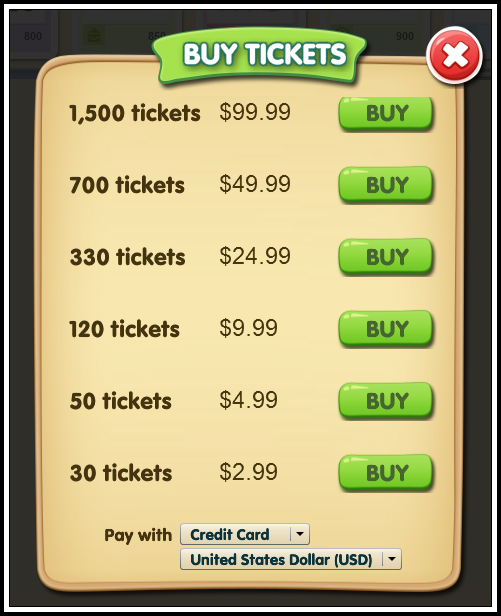 Each card in the marketplace is only available for a short amount of time before disappearing; when the tan bar underneath each card totally disappears, the bar will turn red for a second, and then the card will disappear in a poof of smoke, being replaced by a new, different card.
But don't worry if you couldn't purchase it before it disappeared; cards are constantly appearing, disappearing, and re-appearing in each market. You simply need to wait for it to show up again, or look for it in another market.
Regardless of the market you're in, once you see a card you'd like to buy, click on it, and then click the 'BUY' button. You can keep buying as many of a particular card as you'd like before it disappears from the market, and can continue buying it when it re-appears.
After you purchase a card, a pink clock with a moving hand will appear over it, temporarily blocking you from immediately buying it again. The length of time a card is blocked depends on how many of a given card was issued.
Cards that have just been released to a market will have low issue numbers, and therefore a longer timer on them preventing an immediate re-purchase. This timer is to prevent one player from acquiring all of the low issue numbers for a given card (many players choose to collect cards with certain low issue numbers, so these cards are worth more).

Your card will automatically appear in your Pack after purchase, and if purchased with credits, it will be safe from being stolen for 15 minutes to give you enough time to either lock the card, Vault it, or make it into a recipe. Cards purchased with tickets will be permanently safe.
Hovering over the card will show you how long the card is safe for: